Class 50's In Focus
The main focus of The Railway Dog blog was always intended to be the Bournemouth to Weymouth line and any diesel or steam hauled workings over the route. Occasionally we venture to the extremes of Dorset and even over the county boundaries if time allows. Last Saturday afternoon ( 18th June 2022 ) saw us out on one such mini-adventure when Yoshi and I headed to Templecombe which is located approximately one mile north of the Dorset border in South Somerset. A railway station in Templecombe was originally opened in 1860 but this was closed in 1966. Following pressure from the local community, the station was reopened in 1983. Which is probably around about the last time I visited. The station has two platforms, but only one side is in use and is a new extension of the former down side platform built so it meets the single track with passes through the location. The unused Up platform still has its wonderful redundant 1938 signal box in situ.
Three locomotives and one diesel multiple unit have been named 'Templecombe'. The one loco which I most associate with the name is Class 33/1 No. 33112 which was named on 17th October 1987 ( why does that date sound familiar?)
My Templecombe visit this past weekend was made in order to photograph the return leg of UK Railtours "The Devon Pullman" rail tour which ran between London Victoria and Exeter St. David's and utilised the Belmond British Pullman coaching stock. The outward leg of the special train was via Westbury and Taunton, but the return by way of Honiton, Yeovil Junction and Salisbury inspired memories of when Class 50's were regular visitors on this route.
The tour was advertised as involving two Class 50 locomotives, but it transpired that only one was in evidence on the day; No. 50007 'Hercules', one side of which has been temporarily re-designated as 50034 'Furious' as a thank you to GBRf charter manager Paul Taylor for his prostate cancer charity fundraising efforts as 'Furious' was his favourite class 50 locomotive. Our video of the train passing Templecombe is below:
The fifty Class 50 locomotives were built by English Electric at their Vulcan Foundry in Newton-le-Willows in Lancashire between 1967 and 1968 and were originally leased to British Rail (BR). They were introduced primarily to haul passenger trains north of Crewe during the electrification of the West Coast Main Line (WCML). At the end of their lease period, the Class 50's, also known as English Electric Type 4's, were purchased outright by BR. They were initially numbered D400 – D449 and were later allocated numbering sequence 50001 – 50050 under the Total Operating Processing System (TOPS) scheme in 1973. The class were named after Royal Navy ships during the late 1970's, echoing the "Warship" diesel hydraulic locomotives which were previously employed on the Western Region of BR. In 1984, No. 50007 'Hercules' was out-shopped in lined Brunswick Green livery and renamed 'Sir Edward Elgar' to commemorate the 150th anniversary of the Great Western Railway (GWR).
As the electrification of the WCML moved further north, the Class 50's were gradually moved to the Great Western Main Line (GWML) replacing non-standard diesel hydraulic Class 52 "Western" locomotives on services out of London Paddington. All members of the class had been transferred from the north between 1972 and 1976. It's alleged this is where the class gained their nickname "Hoovers" because as built they produced a noise like a vacuum cleaner. This characteristic disappeared when the whole class was refurbished between 1979 and 1984. Later, from 1976, High Speed Trains (HST) took over GWML services and the Class 50's were once again moved, but not restricted to, new duties hauling trains from London Paddington to Worcester and Hereford via Oxford. Additionally they took charge of the West of England Main Line (WEML) between London Waterloo to Exeter which became the final regular services the class would be assigned to haul. By the early 1990's the Class 50's were earning a reputation for unreliability and a failure on the mostly single line sections of the route would cause severe delays to the timetable. The decision was made to withdraw the entire fleet of Class 50 locomotives and replace them initially with displaced Class 47/7's on the Waterloo – Exeter services prior to the planned introduction of Class 159 diesel multiple units (DMU's).
By 1992, only eight Class 50's were in operational service and several were given special liveries to celebrate their demise, for example, founder member of the Class No. 50050 'Fearless' was given her original running number of D400 and repainted in early British Rail Blue livery. Sunday 24th May 1992 was to be the last day on which Class 50's were assigned to haul scheduled service trains. The day was organised by the Network SouthEast (NSE) route manager and the BR Special Trains Section with considerable assistance provided by Plymouth Laira depot. It was intended for three Class 50's to be in service, but in the event, No. 50033 'Glorious' had the less than glorious indignation of suffering generator and traction motor flashover damage on 23rd May and had been declared a failure. She was eventually repaired enough for her to limp back to Exeter light engine. This left two celebrity class members No.'s D400 and 50007 'Sir Edward Elgar' to fly the flag working in multiple between Salisbury and Exeter.
The last westbound train of the day hauled by Class 50 locomotives was the 1655 London Waterloo – Exeter St. Davids which the Hoovers worked between Salisbury and Exeter, departing the Wiltshire city at 1841 being the last service train on BR powered by Class 50 traction. The day saw the trains full and standing with railway enthusiasts who had travelled far and wide to experience the final services behind the English Electric Type 4's. "Farewell Class 50's" and "The Glorious End" headboards were carried on the final runs. The three locomotives scheduled to operate services on the final day of regular workings were retained by BR until 1994 for use on rail tours. My late friend, John Chappell, went out to witness the Class 50 farewell and obtained video footage at Salisbury and Yeovil Junction and I'm pleased to be able to share this with you here:
A few images below of Class 50's seen at on GWML services and further afield, kicking off at Reading on a dull and overcast day in April 1982. First up is he locomotive which many years later would haul last weekends rail tour to Exeter; No. 50007 in original BR Blue livery.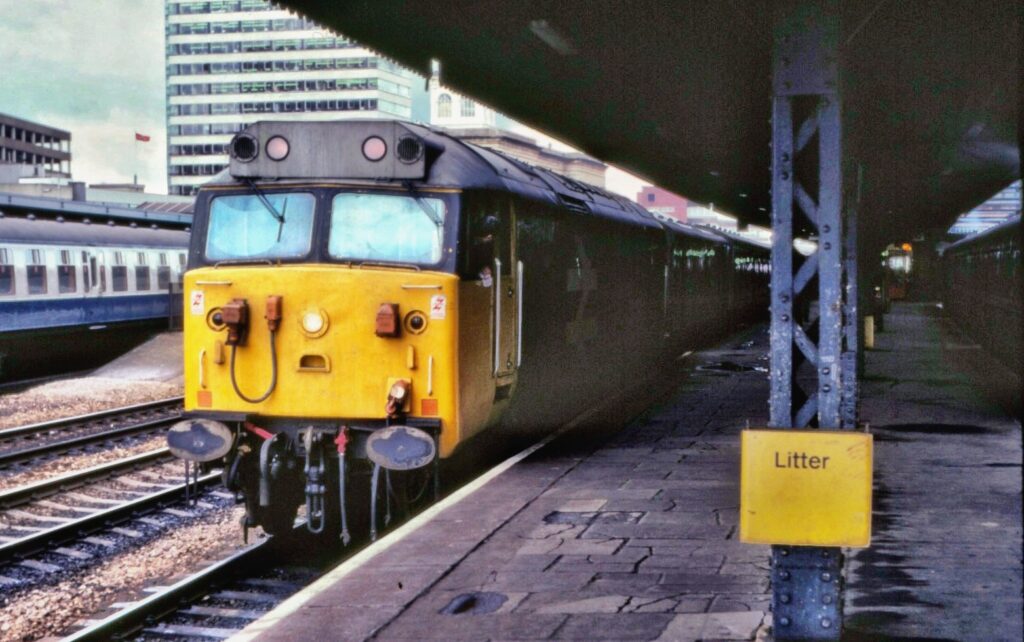 Class 50's were occasional visitors on Bristol to Weymouth services, deputising for the regular Class 31 locomotives: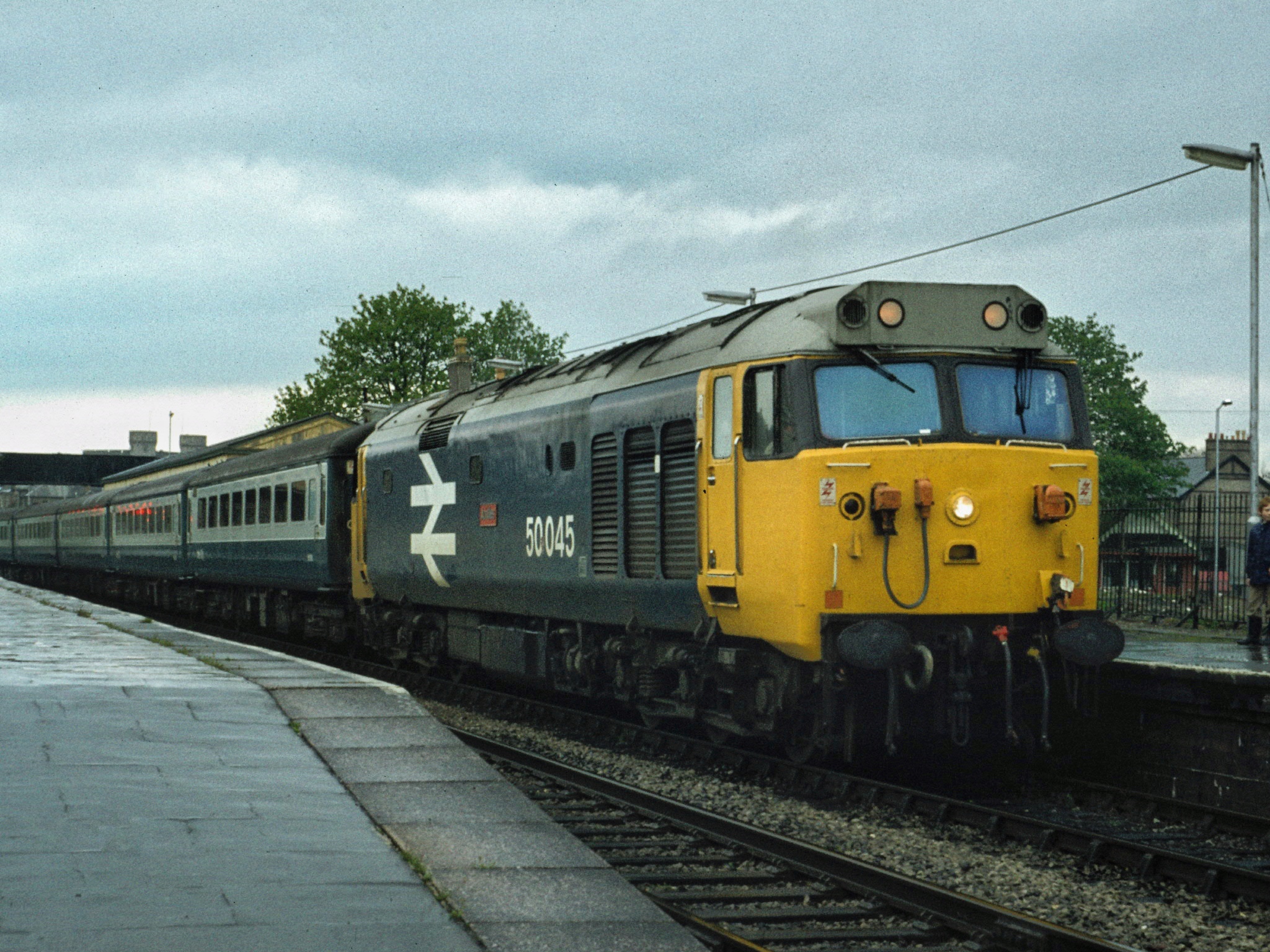 Eighteen Class 50 locomotives were saved for preservation.
As mentioned in the text above, No. 50007 was painted in lined Brunswick Green and renamed 'Sir Edward Elgar', the following images are when she visited the 1995 Mid Hants Railway diesel gala in this guise:
The following video was taken at the 1995 Mid Hants Diesel Gala and features English Electric Class 20, Class 40 and Class 55 diesels alongside No. 50007 as well as other classes:
Surely a candidate for the strangest livery ever carried by a Class 50 is that carried by No. 50017 which was repainted into London Midland Scottish (LMS) style streamlined "Coronation Scot" crimson lake and gold. The locomotive had been purchased from BR by preservationist John F Kennedy. Shortly after returning to traffic on the West Somerset Railway the owner reached agreement with Venice Simplon Orient Express for its use working luxury Northern Belle dining services on the main line following certification by Resco. The locomotive was moved to Riley and Son Engineering in Bury for repainting in August 1999. The VSOE deal was short lived however, possibly because the mooted streamlining of LMS Coronation Pacific No. 46229 'Duchess of Hamilton' for the main line failed to materialise, the cheaper option of cosmetic streamlining eventually being chosen instead, with the Stanier locomotive placed on static display at York. After being moved to Tyseley Locomotive Works No. 50017 was eventually sold on to another rail enthusiast.
The 26th September 1999 saw Weymouth being visited by a Class 50 and a Class 55 Deltic in connection with an empty coaching stock (ECS) move from Bournemouth. The train had originally worked from Wolverhampton to Bournemouth having been hired by the Socialist Workers Party in conjunction with the Labour Party Conference taking place that week. Riviera Trains provided the stock and VSOE provided the staff and locomotives which turned out to be Class 55 No. D9009 'Alycidon' and Class 50 No. 50017 'Royal Oak' ( sans nameplates ). The Class 55 lead on the southbound working with the Class 50 attached to the rear of the train. The ECS worked onto Weymouth and it was decided that as No. 50017 was to work the return working, No. D9009 would be run round and tucked inside. The same day saw Brush Type 4 Class 47 No. 47785 and Electro-Diesel Class 73 No. 73105 also in evidence with another charter train ECS from Bournemouth as can be seen in the following video clip:
Local Update
The week kicked off with a visit to the Bristol – Weymouth line by the HST New Measurement Train on Wednesday 15th June which we saw at Dorchester.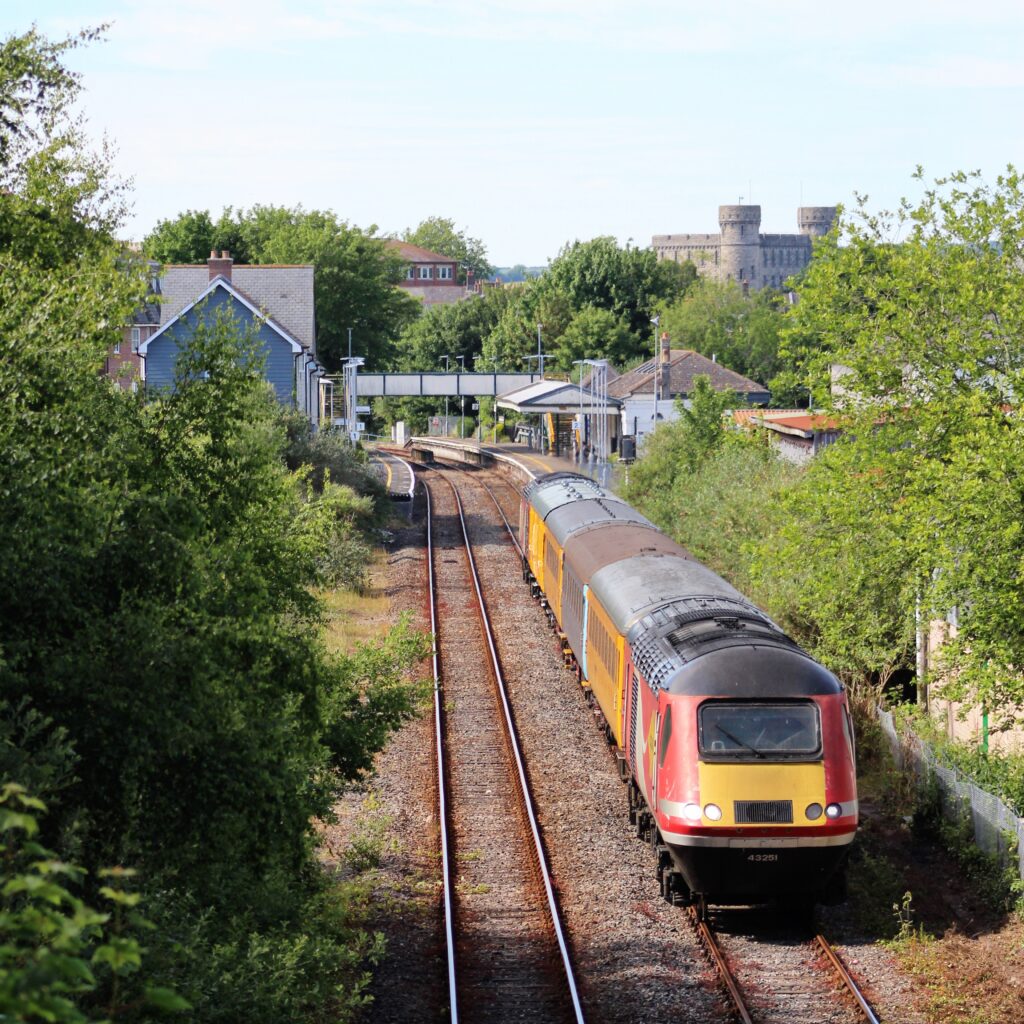 Yoshi was up early on Sunday morning so we could pop into Bournemouth to see the return working of a ballast train which had arrived at New Milton in the early hours. Our original plan was to get to Christchurch to see the ensemble, but it departed for Bournemouth as we were en-route, so we turned around and, as the station was locked, found a spot off Holdenhurst Road where we were just about able to peer through the buddleia and other overgrowth to get a glimpse of the Freightliner operated train. By the time the Class 66's passed us, the station was open for business and we were very kindly allowed access to the platforms to see the train close up.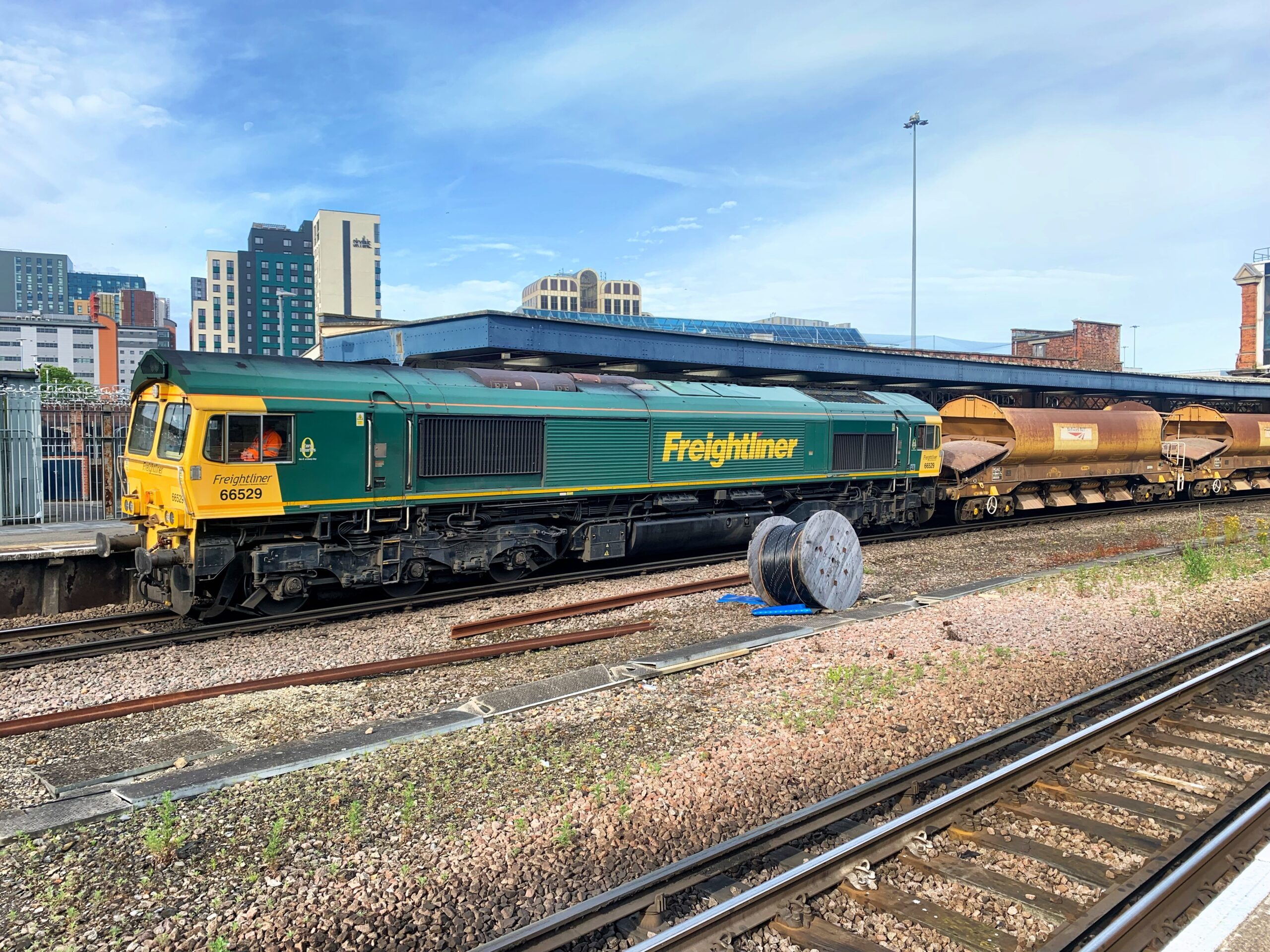 After all the excitement of Class 50 hauled rail tours and Class 66's on an engineers train, Tuesday 21st June saw the first of three days of disruption on the UK railway network which have been called the biggest train strikes in thirty years. Tens of thousands of rail staff who are members of the RMT union are taking industrial action over pay, redundancies, pension reforms and changes to working practices. As a consequence no trains ran on the Bournemouth to Weymouth line during the strike. Further days of industrial action are scheduled for Thursday 23rd and Saturday 25th June. A steam railtour due to visit Bournemouth and Weymouth on the Thursday has been cancelled.
We mentioned previously about the disused railway bridge on the former Bridport Branch at Toller Porcorum which had been under threat from National Highways (NH). Following the refusal of retrospective planning permission by Eden District Council for hundreds of tonnes of concrete which had been poured over a Victorian railway bridge at Great Musgrave in Cumbria the NH have amended their processes to ensure full planning permission is sought before carrying out similar work in the future and infilling of structures would no longer be considered unless there was absolutely no alternative. Hurrah!
Thanks for reading, comments and corrections always welcome. We hope you'll join us again next week!